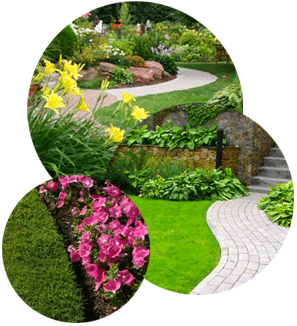 From regular lawncare maintenance to landscape design and project management, we handle it all! Our services meet your year-long needs to keep your lawn and yard looking its best through all the seasons. Some of our services include:
DESIGN/BUILD/INSTALLATION OF LANDSCAPE PROJECTS- Large or Small
BASIC SERVICE
Mowing
Weed-eating
Edging
Blow Debris from Walkways
ADDITIONAL SERVICES
Shrub Trimming
Fertilization Program and Weed Control
Grass Installation
Overseeding
Flower Bed Cultivating
Leaf Clean-Up
Tree Removal, Trimming and Pruning
Gutter Clean-up
Insect Control
Seasonal Flowers
Landscape Design and Installation
Landscape lighting
Sprinkler System Repair
Retaining Walls
Monthly Newsletters
And much more…
Contact us to see why both your residential and your commercial properties can benefit from the upkeep and upgrading of your lawn and yard.